Discussion Starter
·
#1
·
I'll let Wingmaninmo fill in the details but there should be atleast one more bird if Alex could of connected Saturday. Picture of Jamie's first turkey and by looking at Alex's (on the left) face, you'd think he wasn't non too happy it either that his brother got one and he didn't
.
Alex, Jamie, and a friend of Mike's son Brendan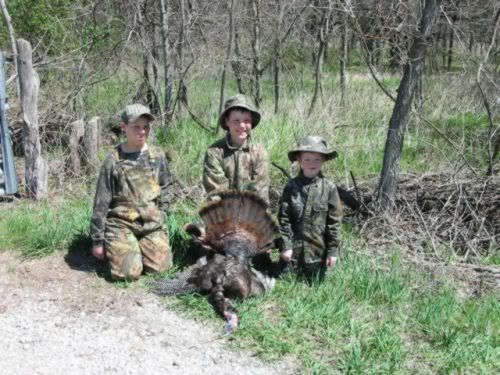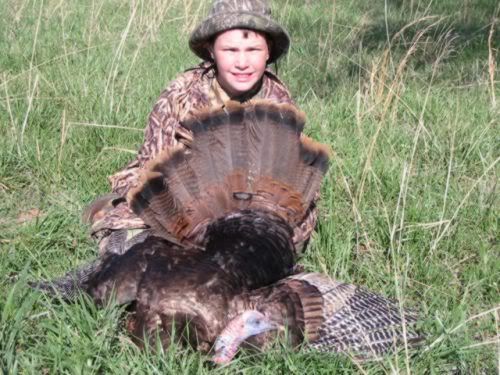 These pic's are from this morning approx 9:30. After watching a big tom strut and drum infront of us off and on most of the morning about 60 yds out but wouldn't committ :stickfight:, and having 5 deer walk within 10 to 20 yards from us just outside the dekes, this Jake was in a wheat field behind us before Jamie took an impressive approx 40 yd one shot.
Hunted both saturday and this morning, (Alex on saturday and both today). Saturday was tough and although Alex did take a shot a 20 plus pound Tom, it just wasn't meant to be as he ran and flew off. If Alex would of told me he only had one shell because he droped the other two earlier and didn't say anything he may have had another shot at the tom or the 2 jakes that just stood there for a second :bangin:. Brendan just never did have a good shot but for a youngin' he did great even when we had 3 hens walk up to the dekes and mingled around within 10 yards for about 10 minutes on Saturday.
I'll let Mike and his creative report writting skills
tell how the weekend went. Thanks again Mike :cheers:.
John
p.s. Just thought of something, Alex managed not to spill a drink all weekend with your daughter and her friends around :hysterical:.