View attachment 129017
View attachment 129017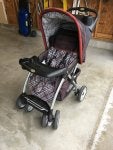 I have a Eddie Bauer Stroller a Play-n-Pak and shopping cart cover for sale, 10 bucks, yep, 10 dollars.
Play-n-Pak is like new, comes with the "mattress" they call it a mattress but it is not very soft
Stroller has dual wheels in the front, single in the back 6 inch I think. Canopy flips forward or backwards, under neath storage, for extra diapers and pacifier etc..come with adult beverage holder, figure an adult will be pushing the stroller, not adult beverage. Well some guys one here they may be pushing each other in this....
If you are almost expecting or have family that would need these things hereya go,
I know one guy mentioned that he does not have kids yet, might as well stock up now
all or nothing
would like to meet f2f with in this next week in the St. Charles O'Fallon St. Louis area
pictures to follow